Words: Samantha Tams, Interview: Kristom Parson
Samantha Tams is the co-founder of the Latin American Fashion Summit (LAFS). Born in Mexico City and raised in a small town outside the city, she took an interest in traveling and learning languages from an early age. Upon returning home from studies in an entirely different direction, it was by chance that she stepped into her first fashion role at Saks Fifth Avenue as the store was just opening in Mexico City.
After holding numerous roles in the industry, it was a conversation with Nicaraguan-born Estefania Lacayo about creating a platform for uniting and amplifying Latin American talent that inspired her own journey into entrepreneurship. Launching its first summit in 2018, LAFS began with a clear mission to promote and foster Latin American brands and businesses through educational programs and access to industry leaders. One of the few design events that focuses on Latin America as a region, LAFS promotes emerging designers and the fashion business as a whole. Over several days of programming, attendees have access to workshops and panels covering everything from brand positioning and visibility in a saturated market to current industry affairs and insightful perspectives on the future of fashion.
With fostering brands and connecting people at the heart of their mission, the duo had the fortitude to act swiftly and evolve once it became clear that the unforeseen circumstances surrounding the pandemic would ultimately halt the in-person summit in 2020. Initially, they found a successful alternative in providing free webinars wherein the LAFS community could tune in for strategic advice on carrying their businesses forward. Once this format proved to be a successful alternative, they had the confidence to migrate the physical event into an optimized online version. Their final answer is TRIBU, a members-only, professional social networking platform that engages users in the worlds of fashion and design to share, collaborate, and connect with top talent across various disciplines.
We are grateful to fellow female entrepreneurs like Samantha, who are dedicated to discovering new ways to grow and support the Latin American design communities.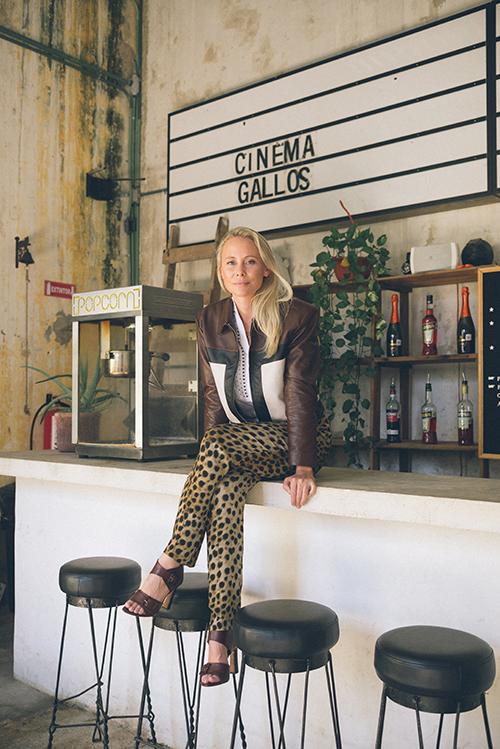 Samantha wears the Kitty jacket in Salon Gallos, Merida, Mexico.
Photos by Jose Manuel Rodriguez for DANCASSAB.
DC: Where did you grow up? Did your surroundings have an impact on what you ultimately decided to pursue in your academic or career choices?
ST: I was born in Mexico City but grew up in Cuernavaca, a small town outside the city. From an early age, I was very interested in traveling, learning languages, and growing up in a small town with limited things to do fueled my desire to live in a big city. So when I chose my career, I decided I wanted to study Diplomacy and left for my studies in London and Paris.
DC: How did you initially start in the industry?
ST: So obviously, I didn't become a diplomat. As soon as I finished my studies and went back to Mexico City to look for a job, a very good friend told me that Saks Fifth Avenue was going to open soon. I showed up for an interview without knowing what I was applying for, and I got the job as Assistant Buyer for Shoes and Handbags. That was my first job in the fashion industry.
DC: Do you recall any specific bosses, mentors, or peers who helped shape you in the early stages?
ST: Absolutely, I have plenty. My first boss Cynthia Alonso hired me and taught me about retail math and buying. Our GM Martha Balcarcel was a great friend and mentor with awesome style, and Mr. Carlos Hajj (CEO) taught us how to carry out a retail business. During Carlos' and Martha's tenure, I had the opportunity to work with Mr. Carlos Slim Sr. he's been to date the most influential mentor I've had, not only as a businessman but as a human.
DC: When did the idea to launch the Latin American Fashion Summit come about?
ST: The idea was born in the summer of 2017. I was vacationing in Nicaragua with my sister-in-law, Estefania. We both had strong retail backgrounds and shared the idea that there was a lot of talent in the region, but something was missing. We started talking about creating a summit for emerging Latin American brands and businesses, and the next thing we knew, our first summit happened in November 2018 with 350 attendees from all across the region.
DC: What were the most important things to consider about this joint venture? What were some of the challenges you faced?
ST: Before LAFS, I had never been an entrepreneur, so it was very challenging for me to develop a thick skin for all the rejection in the early stages. Back then, the idea of a fashion summit was somewhat foreign to a lot of people in Latin America. It was very challenging to pitch the project to sponsors as our company was new, and we had no proven concept up until then. Regardless of this, we moved forward. We had a very strong mission to help Latin American brands and businesses, educate them, and give them access to leaders of the fashion industry. We saw a white space and were willing to address it.
DC: You have helped shed a spotlight on talented designers and united the Latin American fashion community on a deeper level through networking and educational workshop offerings which cover brand building, marketing, resources, and consumer insights, and beyond. Is there a measurable impact – in the form of brand success stories or perhaps growth in manufacturing or supply chains in particular regions – that you have seen?
ST: A lot of cool things happen in our community; people connect and opportunities arise. The two most tangible ones that I could think of are Colombian designers Kika Vargas and Maygel Coronel as examples. They were the winners of our Pitch to LAFS 2018 and 2019 contest (The Pitch to LAFS is a yearly competition that rewards Latin American Talent and exposes it to more than 20 international industry leaders, including buyers, luxury consultants, CEOs, showroom owners, publishers, and investors). Kika now sells in Bergdorf's, Neiman Marcus, and Nordstrom, and Maygel Coronel has had 4 successful trunk shows in Moda Operandi and escalated her business to another level.
DC: Much has changed since your inaugural LAFS summit. How have you remained agile through the limitations over the past year? Was TRIBU the answer to this?
ST: As soon as the pandemic hit, we knew that our community was suffering, and we needed to help them navigate those troubled times. For that, we started to create free webinars where they could be advised on how to move forward and the strategies they should implement in their businesses. The successful outcome of these webinars gave us the confidence to migrate the once physical event into an online one. Furthermore, we launched Tribu, an app and desktop version of a professional networking platform for everyone in the fashion and design industries.
The past year introduced our business to an exciting digital landscape that never ceases to grow and amaze us.
DC: Can you share a bit about the Tribu platform and its offerings?
ST: TRIBU is a new, members-only networking desktop and mobile app platform providing a connection between users and others in the fashion and design worlds. We are a professional social network that allows you to share, collaborate, and connect with the industry's most talented people. Its most exciting features are a valuable directory organized by industries and occupation and GPS reactive. Like this, we create opportunities to connect with other users to expand members' networks. We offer different ways to showcase projects, post and apply for career opportunities, and share events. We produce educational content from leading industry experts such as webinars, talks, and roundtables. Moreover, our members enjoy exclusive benefits from our sponsors and partners all over the world.
DC: What is a typical workday like for you?
ST: My day starts very early. I work out, and then I get to my to-do list for the day. I have two young kids (2 and 5), so while they are at school (home school for the past year), I have roughly 4.5 hours to be very focused and work. I typically work on the computer during the first part of the day, and I try to schedule all my calls for the latter part that I am multitasking between kids and work. I try to dedicate 4 hours a week to jump on calls or meet with designers.
DC: Do you have any words of wisdom for anyone looking to enter the industry or brands who might be curious about LAFS or Tribu?
ST: The industry is saturated; stick to your mission, develop a strong brand DNA, find your voice, leave a positive mark in the world and tell your story.
On Mexico / Yucatan:
Your favorite restaurant:
Ixi'Im restaurant inside Chable Resort, Yucatán.
Museum or gallery to visit:
Galeria OMR (Mexico City)
Best place to be outdoors:
The beach, I have been discovering amazing places in the Yucatán Peninsula
Top retail/shopping experiences:
Coqui Coqui, they do an outstanding job attacking all of your senses from decadent aromas, luscious oils, delicious honey and chocolates, amazing fashion and décor, and relaxing stays on all of their properties.
In your free time, you enjoy:
Riding a bike with my family.
How you maintain balance:
I was lucky to move to Yucatán, where I have had a better quality of life that helps me balance work and time with my family and myself.
Where you find peace:
At night, I go out to my terrace and lie down on my hammock, trying to wind down the day.