Words: Fia Hamelijnck
Fia is our Voice at Dan Cassab, she is beautiful inside and out. Half Dutch and half Nigerian, she has an eclectic and playful style. Fia loves life, and is a very positive person, she now lives in Amsterdam, where she has found her base, and enjoys it.
Big time influencer, she enjoys doing mix and match with colors and styles. Also a philanthropist, helping many Cancer Foundations.
She is always positive, her mantra: you may rest, but never quit!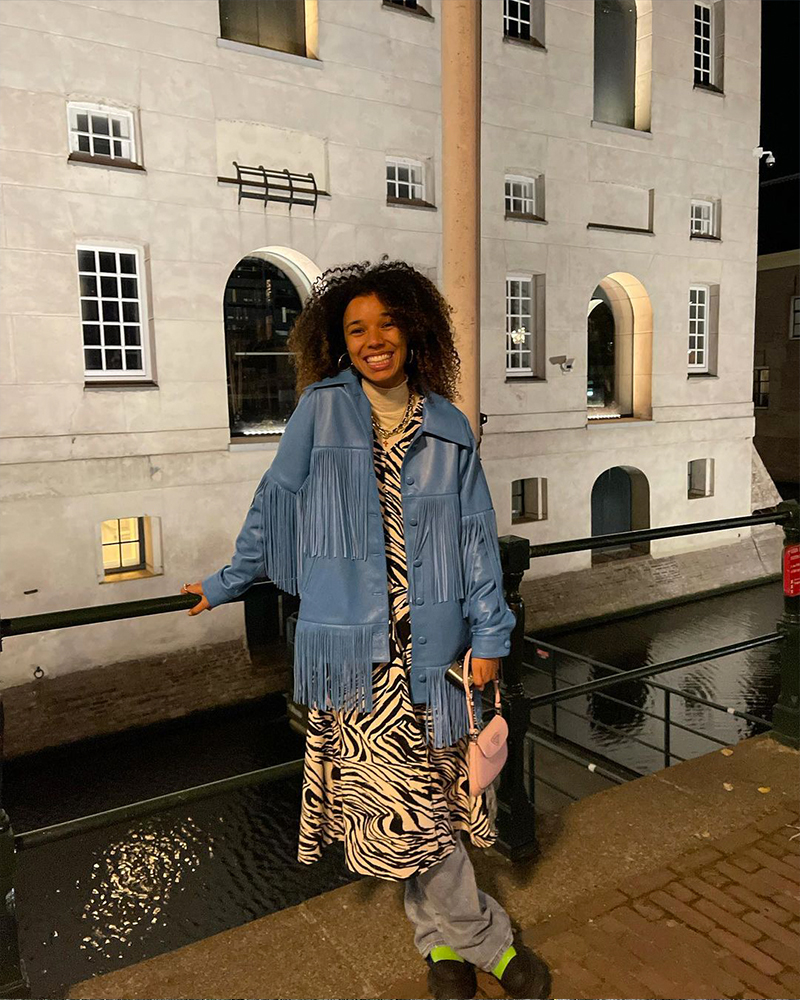 Fia wears the Loretta jacket.
DC: Fia, you remind us of the beautiful flowers that grow in the Netherlands, specially the sunflowers, how does your character relate to that?
FJ: Oh that's a good one, to be honest I do see some similarities with a sunflower. The biggest one is that they always grow facing towards the sun. So they look forward to a bright and fun future. That's exactly how I live my life. Not everything goes as planned, but when you look for the bright side of things, your life will fall into place.
DC: You were very young when you moved to the big city, how did you make that decision?
FJ: I grew up in a small village together with my mom and my sister. There are only seven thousand people living there. I knew from a very young age that my place in to world was not there.
As soon as I visited Amsterdam and especially when I met the people that where living there. I love Amsterdam, as well as the people who live in it. I get inspired by just walking on the street, my love for fashion and art awakens.
DC: You have mentioned that you love your home land, what is that you like there?
FJ: I just love the Dutch mentality. Very down to earth, direct and honest. But the the thing that really keeps me here are my friends and family. Such a cliche, but can't image my life without having them close to me.
DC: Instagram and Pinterest set the turning point for you to be an influencer, we love your style, what made you start this?
FJ: I always had my own style when I grew up. I started experimenting with fashion and styling in high school and never stopped pushing boundaries of what I believed is cool and what you can mix and match.
DC: Being a role model carries responsibility, which is the message you give to your followers?
FJ: That's it's OK to be different, and that the most important thing is to express yourself. But most of all you should always stand for inclusiveness. And that's something I want to stand for.
DC: This past year, what was your most important lesson?
FJ: "Do you" just always do you. Go for what feels best for you, wear what you want and look like you want. Don't ever think you are not good enough, because you are. We all are good enough 💙💙💙
ON AMSTERDAM
Must place to visit if it's your first time?
So many places to visit. But for me a visit to Amsterdam isn't complete without visiting the "Noordermark". This is a vintage clothing heaven every Monday. You can find vintage designer clothes, but also other eclectic vintage finds. Noordermarkt is a market / food place that you will find every Sunday. They have really nice organic snacks and great oysters!
What do you enjoy doing in your free time?
I love walking trough the city. I have a dog and since he's part of our family we walk from one side of the city to the other. We usually stop for lunch, snacks and coffee.
Favorite Coffee Shop:
Yusu! It's close to my home and they have THE BEST cappuccino oat and banana bread. Say Hi for me when you are there:P
Best Vintage Store:
Noordermark
Reveuse Vintage
Episode
Ijhallen
Loretta